Professional E-commerce CMS with WordPress
Wordpress Blog w/ Free Template

Hosting Included

SSL 3.99 per month

Unlimited e-mails

Wordpress Training Availalble

1 Hour Wordpress Tasks/month

49.99 Setup*, 19.99/month

30-day money back guarantee

Additional Features:
WizSeller Framework
10, 000+ Wordpress Themes
50, 000+ Wordpress Plugins
Expert WordPress support
PHP 7.3 ready
CPanel

Wordpress Blog w/ Free Template

Hosting Included

SSL 3.99 per month

Unlimited e-mails

Wordpress Training Availalble

1 Hour Wordpress Tasks/month

149.99 Setup*, 29.99/month

30-day money back guarantee

Additional Features:
WizSeller Framework
10, 000+ Wordpress Themes
50, 000+ Wordpress Plugins
Expert WordPress support
PHP 7.3 ready
CPanel

Wordpress Blog w/ Woo Commerce

Hosting Included

128 bit SSL $5.99 a Month

Unlimited e-mails

Woo Commerce Training Availalble

3 Hours WP or Woo Tasks/month

349.99 Setup*, 49.99/month

30-day money back guarantee

Additional Features:
WizSeller Framework
10, 000+ Wordpress Themes
50, 000+ Wordpress Plugins
Expert WordPress support
PHP 7.3 ready
CPanel

Some F.A.Q's
How do I register a domain name?
If you feel comfortable navigating registration sites, click here to get started. Your domain will be registered with us and can facilitate management & hosting for you. Lowest cost domains: $12.99 forever!
Can I move my website if I choose?
One of the best features of our business model is that all our cart are designed on open source code, and is easily portable. All site comes with one click backups and installation. All you need is a Apache hosting account.
Wordpress or Joomla CMS?
If you are just starting out and are not currently running a Joomla site, we recommend going with WordPress CMS. WordPress cost less to develop and easier to maintain.
Can I cancel anytime?
Absolutely, although we have a very little cancelation rate. You can easily cancel your account after your initial set up anytime. In addition, you will be able to move your site to another server. Note: Sites are not portable on Shopify, Wix or Weebly.
Do you offer training?
Absolutely, every account comes with an initial training session to show you the ropes. If that's not enough, you can purchase additional training time.
What is a CMS?
A content management system allows anyone with a basic understanding of web technologies to maintain and design their own websites.
Do you Offer Hack Recovery?
Yes we do. We are always updating oue security skills in order to tackle the latest in CMS hacks. Joomla! or WordPress we can recover you website in no time at all. Just contact us with your issue.
How Much Experience Do I Need?
If you are comfortable with MSOffice or any other document editor, you will be able to get along with our interface. Look below, do you understand the interface? If you need assistance, you can alway create a ticket. An agent will assist you shortly.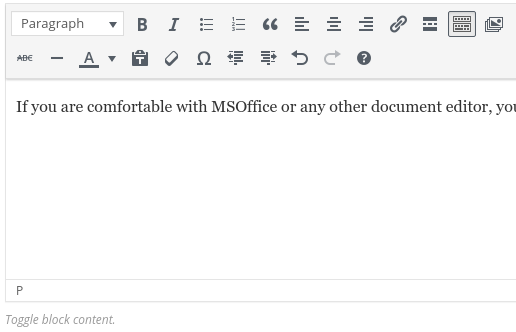 Over 40,000 Templates